Review: PennZee
While a large manufacturer like Marklin has the resources to routinely release comprehensive catalogs and distribute their products to retail stores around the world, the products of smaller manufacturers (such as this one) are much more difficult to learn about and acquire. So, I've posted these pages with photos, information, and the occasional critical eye to spread the word, so to speak. Contact information for this manufacturer is located here; see where to buy for additional information. Feel free to write me if you have any questions or additions to this page.
PennZee is an American maker of modern Z-scale rolling stock. The most well-known PennZee cars are the three-bay hopper cars, but PennZee also makes reefers and carstock structures. I've also heard of passenger cars and steam engines under the PennZee name, but I have no further information on these. They're not easy to get ahold of, but you can order them directly from PennZee, and they're commonly available on eBay.

---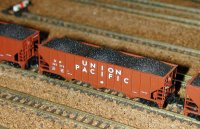 PennZee is currently the only manufacturer (of which I'm aware) that is making 3-bay hoppers for Z. (Freudenreich does make two-bay hoppers.) They're available in several road-names, including Union Pacific, Southern Pacific, Conrail, N&W, Chessie, Santa Fe, Virginian, Burlington Northern, Great Northern, Milwaukee Road, two different Pennsylvania designs. These UP units go very well with the American Z Lines C44-9W.
These cars have plastic bodies and Micro-Trains truck-mounted couplers. Small weights are glued inside the body, and can be removed or supplemented by removing the coal load.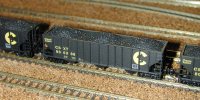 Here are some of my favorites, lettered for the Chessie System. These cars are remarkably inexpensive (only $16-$18 apiece), given their limited production. Since there are four road numbers released for each design, you should be able to find four-packs of the hoppers (providing an assortment of numbers) for $64-$72.
The coal loads are a little too uniform for my taste, though - Freudenreich hoppers come with much nicer loads. To remove the coal load, you can carefully pry it out with a razor blade. Better yet, to avoid damage to the body, drill a small hole in the bottom of the chassis and push it out with a metal rod. A small piece of cardboard with some scale coal glued to it should be a suitable replacement - I'll include pictures when I get around to this project.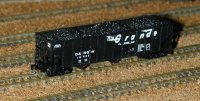 I was lucky enough to obtain some undecorated hoppers, on which I've been placing decals (designed and printed by yours truly) for the Denver & Rio Grande Western line, which is my all-time favorite hopper design. I don't know if PennZee has any plans to produce D&RGW hoppers.

Return Home | Search | Contact Me
Copyright © 2000-2010 D. A. Karp. All rights reserved.