Review: American Z Lines
While a large manufacturer like Marklin has the resources to routinely release comprehensive catalogs and distribute their products to retail stores around the world, the products of smaller manufacturers (such as this one) are much more difficult to learn about and acquire. So, I've posted these pages with photos, information, and the occasional critical eye to spread the word, so to speak. Contact information for this manufacturer is located here; see where to buy for additional information. Feel free to write me if you have any questions or additions to this page.
A few years ago, Rogue Locomotive Works released their GP38-2, the first modern American diesel locomotive for Z-scale of which I am aware. (As far as I know, you can't get the GP38-2 any more, except perhaps occasionally on eBay.)
Rogue is long gone, but from the ashes sprang Rogue Lines for the release of their stunning brass C44-9W in September of 2000. Now called American Z Lines, among their latest releases is an ALCO PA diesel (see my review in ZTrack Magazine - Volume 7, Number 5; page 14), a beautiful EMD E8/9, and the newly-released SD45 and F45 units. Stay tuned for an SD40, an SD40-2 snoot nose, and a GS-3/GS-4, the first z-scale steam engine not built on a Marklin chassis! Details can be found at ZTrack.
---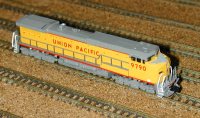 This model is an achievement. It is superior to the RLW GP38-2 in every way. The body is all brass: some parts appear to be cast, and others appear to be photo-etched. It's nice and heavy, and certainly the largest Z-scale locomotive I own (not including tenders on steam locomotives).
Now that I've broken it in by running it in a small circle for about 10-15 minutes (IMPORTANT!), it runs very, very well. It runs smoothly, and although not as quiet as the GP38-2, it's definitely faster; at full throttle, it only slightly slower than some of the fastest Marklins. Its low-speed performance is fair, but not nearly as good as a Marklin with a 5-pole motor (this may improve with age).
Probably the most significant aspect is the C44's weight and sizeable dual-flywheels, which make its performance essentially jitter-free. If you lift the unit off the tracks with the throttle at full power, the wheels continue to spin for over a second - no other Z-scale engine I've seen does this.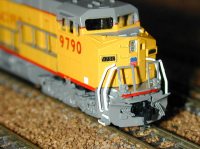 The detailing on the front of the unit and on the trucks is excellent. The paint is bright, even, and solid. In some places, the paint seems to slightly obscure the detailing on the body (especially on the roof), but never very much. The lettering is very good; on par with the lettering on Micro-Trains F7 units.
Both couplers are attached to the body, not the trucks, which is not only prototypically accurate, but accomodates much greater detail. The down side is that any coupling with rolling stock must be done on a straight section of track (here's why). Since the couplers are standard Micro-Trains (Kadee) knuckle couplers, they can be replaced with Marklin-style couplers with very little effort if needed (if you do it, replace the rear only, since the front one looks so good).
My only complaints are the lack of lights of any kind, and the way the couplers are glued to the body rather than screwed to it (when I got mine, the couplers weren't attached at all). Also, there was significant wheel spin until it was broken in. I plan on adding white LEDs, or barring those, grain-of-sand lights (the unit is obviously designed to accomodate lights; there are even fiber optics in the front and rear).
There is reportedly a problem with the body fitting too loose on the frame, but it didn't seem to be that big of a deal.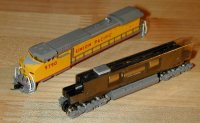 I'm most impressed by the power-pickup of the unit. American Z appears to have done away with tiny copper contacts found in most other Z locomotives; the trucks have two halves, each of which conducts power from the wheels to the two-halves of the chassis, which in turn, connect to the two contacts of the Faulhaber motor. The result is a locomotive that runs smoothly and steadily.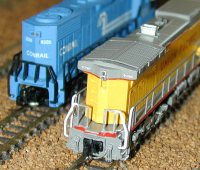 Here is a size/detail comparison of the American Z Lines C44-9W next to the Rogue Locomotive Works GP38-2. The rear of the unit is also well-detailed - all handrails are brass (unlike the GP38-2, which had plastic handrails). Note the chromed exhaust.
Given that there is nothing else like it on the planet, it's hard to resist this locomotive. Probably the biggest down-side is the hefty suggested retail price tag of $550.00. Anyone familiar with brass models in other scales knows that this is on the low side for a model like this, but that doesn't necessarily make it easy to part with the money.
The only appropriate rolling stock for this unit of which I'm aware are the PennZee 3-bay hoppers, the Freudenreich Gunderson Husky-Stack container car, and the Freudenreich Unit Train Coalporter Gondola.
In addition to the Union Pacific model shown here, the C44-9W is also available in Norfolk Southern, Sante Fe, Southern Pacific, BNSF, BNSF Heritage II, and Chicago & Northwestern paint schemes. Dash 9s were initially available through Ztrack Magazine, but are now solely available through select dealers (contact Ztrack for details). Only 500 of these units were produced for all four road names (three road numbers each), so anyone fortunate enough to afford one should jump on it.

American Z Lines C44-9W Specifications
Motive Power
Faulhaber coreless motor w/ two brass flywheels
10 volts max.
Weight
2.75 ounces
(78 grams)
Dimensions
3 7/8" long, 5/8" wide, 15/16" tall
(10 cm long, 1.6 cm wide, 2.4 cm tall)
Axles
6 axles: 4 powered / 2 unpowered
Tested load
(flat)
37 freight cars (Micro-Trains and Pennzee); definitely could've handled more
Tested load
(2.5% grade)
25 Pennzee hoppers; slight wheel spin
Tested load
(flat)
single flat car with 4.5 oz (127 g) load; probably could've handled more
Tested load
(2.5% grade)
single flat car with 3.0 oz (85 g) load; moderate wheel spin
Return Home | Search | Contact Me
Copyright © 2000-2010 D. A. Karp. All rights reserved.