Building the FR Gunderson Husky-Stack Car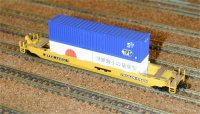 In the first part of 2001, Freudenreich Feinwerktechnik (FR) released the Gunderson Husky-Stack container car, the first commercially-available Z-scale modern-era American freight car. It's 68 scale feet long, with a 48 scale foot-long well, designed to accommodate Marklin containers - it's a great match for the American Z Lines C44-9W. Made from photo-etched nickel-silver, this beautiful model is both strong and delicate. It's available fully built and detailed by Harald himself, or in kit form.
The following instructions are from my experience building my FR Gunderson Husky-Stack kits.
In this article:
Feel free to write me if you have any additions or corrections to this page. Click on any photo to see more detail.
---
Before You Begin
Here are a few general getting-started tips for building photo-etched nickel-silver, stainless-steel, and brass kits:
---
Assembly
---
Prototype Information
The Husky-Stack container cars, made by Gunderson, Inc., are available as either stand alone single units (with a set of wheels and coupler on each end) or as three unit sets with solid draw bars and shared wheelsets between the center and end units to accommodate unusually heavy double stack container loads. The additional wheelsets on the Husky Stack cars afford additional capacity and braking ability, allowing heavier loads than with conventional, articulated double stack cars. With it's low center of gravity, it can handle a single 48-foot container, or two stacked containers.
Right now, information on these cars is scarce. There's no specific details on the Gunderson, Inc., site, and finding photos has been difficult. However, the Intermodal Modelerís Guide, both Volume 1 and Volume 2, has lots of detailing info on the Husky-Stack cars.
I've been able to find a few photos of the different paint schemes in which the Husky-Stack has been seen:
I'll post more details on colors when the information becomes available. (Thanks to USA Trains for the photos.) Comments are welcome!
Return Home | Search | Contact Me
Copyright © 2000-2010 D. A. Karp. All rights reserved.