Review: Railex
While a large manufacturer like Marklin has the resources to routinely release comprehensive catalogs and distribute their products to retail stores around the world, the products of smaller manufacturers (such as this one) are much more difficult to learn about and acquire. So, I've posted these pages with photos, information, and the occasional critical eye to spread the word, so to speak. Contact information for this manufacturer is located here; see where to buy for additional information. Feel free to write me if you have any questions or additions to this page.
Railex is known for several things: They make very nice brass models in Z-scale, they have collaborated with Marklin on a few models (such as the Marklin 8769 & 8770 King Ludwig cars, and the 8770a Adler), and their products are nearly impossible to get ahold of. Until recently, Railex had no web site (railex.de is now up), and has had a reputation of ignoring information requests and even orders. If you're lucky enough to find a Railex model in a hobby shop or on eBay, grab it. Everything of their's I've seen, I've found to be of exceptional quality and beauty. Here are some examples:

---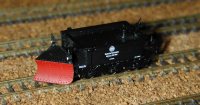 My first Railex acquisition was this German snow plow. The paint is flawless, and there are lots of details; even the rivets are clearly defined. It rolls smoothly and looks great.
My only complaint is that there is no coupler, which makes it impossible to attach it to the front of a locomotive without some modification to the plow or the locomotive's coupler.

---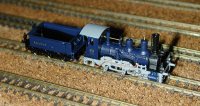 The Tristan comes in a few flavors, including dark green and the blue model shown in the photo. The detailing is first-rate; even the pushrods work. Although it's not powered, it can be pushed by a powered "ghost wagon" - I believe Railex made one at one time to go with this locomotive and the King Ludwig cars (see below).
Like the snow plow, there is no coupler, however, which means that some sort of attachment must be fashioned if I want to hook it up to anything.

---

This set, released by Marklin as #8769 in 1992 (along with #8770) as a one-time series to accompany the 8870 King Ludwig locomotive, was made by Railex. The cars are cast-brass, and have spoked wheels and prototypical couplers.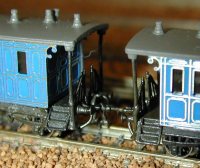 Although the couplers aren't compatible with Marklin couplers, one of the units in the 8770 set (not shown) has a Marklin coupler.

Return Home | Search | Contact Me
Copyright © 2000-2010 D. A. Karp. All rights reserved.