Review: Bahls Modelleisenbahnen
While a large manufacturer like Marklin has the resources to routinely release comprehensive catalogs and distribute their products to retail stores around the world, the products of smaller manufacturers (such as this one) are much more difficult to learn about and acquire. So, I've posted these pages with photos, information, and the occasional critical eye to spread the word, so to speak. Contact information for this manufacturer is located here; see where to buy for additional information. Feel free to write me if you have any questions or additions to this page.
Bahls Modelleisenbahnen is a very small maker of Z-scale products in Germany. The product line consists of a few cast-metal unpowered locomotives and a turntable.
Michael Bahls takes orders directly. He is very responsive and friendly, but doesn't take credit cards yet (customers in the US can send a bank check). What I've seen so far is promising; I hope he is able to offer more products in the future.

---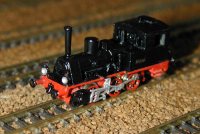 I chose the BR class 89 simply because I thought it was cute, which I know is rather an overused term in the world of Z - but I don't care.
The detailing is excellent; there are even details inside the cab! (I could only see them with a flashlight...)
Although this engine is not powered (there's really no room for a motor in a unit this small), it could be pushed by a powered passenger car ('ghostwagon'). I'm considering building such a unit, and will, of course, include an article to this site as to its construction.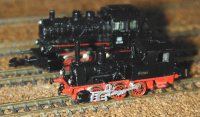 Here it is next to a Marklin 8805, which is a DR class 89 (the Bahls unit is from the BR).
The coupler is simply a bent metal rod, which couples to the Marklin coupler. It's removable if you want to use this as a display piece.
My only complaint (minor) is that it didn't roll that well. I added a little lithium grease to the axles, which helped substantially.
The E 69 electric switcher is currently on my wish-list, although it's currently not available.

Return Home | Search | Contact Me
Copyright © 2000-2010 D. A. Karp. All rights reserved.